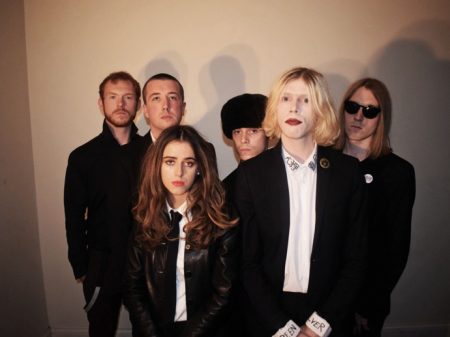 Channelling the spirit of the New York Dolls with a psych rock heart, it's Liverpool art collective Psycho Comedy. Their debut album 'Performance Space Number One' is a heady brew of psych rock with a thunderous New York style garage rock feel, from the Velvet Underground inspired 'Pick Me Up' to the Syd Barrett meets The Coral vibes of 'We Adore You', they've got an abundance of melodies and are a collective not afraid to try doing things a bit differently.
Having just released their outstanding debut album, we asked them about their unique performance art approach, with poetry and creative events working alongside the music, and is it true they recorded all the vocals having not slept for days, so they'd deliberately sound deranged? Songwriter and frontman Shaun Powell tells us all:
You've managed to capture a garage rock punk sound on your debut, to me it's reminiscent of the New York Dolls meets The Strokes meets The Stooges with a dose of Half Man Half Biscuit for the clever lyrics, but what were you inspired by around the time of writing the album?
"I don't think much had changed in regards to influence from to those bands. I guess we have just delved into even more. Music wise there are all kinds, Johnny Thunders, Patti Smith, Television all of those bands considered to be part The Blank Generation. Writers like Jack Kerouac and Allen Ginsberg and artists such as Basquait, Warhol and Keith Haring. The list is endless."
There's spoken word poetry scattered throughout such as 'Island' and 'The Theatre Came Crashing Down', what inspired you to include the spoken word elements to the album?
"Matthew joined Psycho Comedy in the summer of 2016. I knew of how good a poet he was and knew it was a perfect fit. As an art collective we didn't want to just explore music. Poetry with and without music delivers the Psycho Comedy concept and vision."
You're an art collective, so can you describe to us how the rest of the collective worked together on the album?
"Well, we have me, Jack, Jack, Lydia and Connor who are the band, Matthew as the poet (and tambourine) and Sophia who is our in-house artist. Sophia produces all the photography, videos, artwork and visuals for Psycho Comedy which helps paint the picture of our artistic vision- harsh realism and a surreal nostalgic mindset."
As well as the music, any other art collective stuff you've got planned?
"All will be revealed over the course of the next few months. We would like revisit 'Welcome to Smashville' an evening in which we showcased live music spoken word visual art."
Your album was produced by Rob Whiteley who's also worked with BC Camplight, how did you end up working with him?
"We had worked with Rob some years ago on another project and knew how good he was. You only need to listen to the music to hear how he captures the sound. With Performance Space Number One the record has a raw feel with pieces of nostalgia scattered whilst also sounding modern."
I've read that you went in the studio to record the vocals after not having any sleep, as you wanted them to sound deranged? It obviously worked, but what was it like for you during that exhausting process?
"I just felt that almost all of the songs come from a somewhat debauched place and I guess yeah, a little crazy. Why wouldn't I want to reflect that mindset, it's more sincere isn't it? A portrait of the artist."
You've been making music as Psycho Comedy for over 4 years, what's been the highlight?
"Going to New York City in 2019 was huge for us. We felt at home hanging round and playing. The response in each of the shows from the audience was electric. A momentous piece of Psycho Comedy history."
What's next for you this year?
"A UK tour will be announced very soon to promote Performance Space Number to all across the land. Keep your eyes peeled we won't fade away, we will be in your backyard."
Psycho Comedy: Performance Space Number One: Out Now (Silver Machine Recordings)