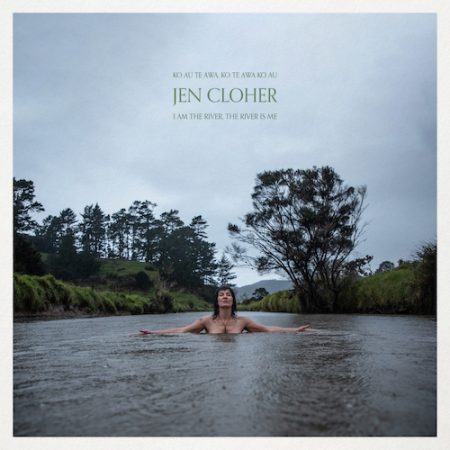 Jen Cloher's latest album is an unashamedly political record but that should not conjure images of angry, shouty music. Thankfully, what is on offer is a warm collection of songs which celebrates community and acknowledges creating art as an act of resistance, 
The opening track on 'I Am The River, The River is Me' evolved from Cloher typing "Māori word for queer" into Google and discovering Takatāpui which means devoted partner of the same sex. Loving the luxuriousness of how that word rolled off the tongue, they wrote 'Mana Takatāpui'. It begins with brief harmonised singing before giving way to a gentle guitar strum and Cloher's relaxed vocals sounding gloriously comfortable and unhurried. The song also incorporates bluesy guitar twang and Southern soul horns. Switching between English and Māori adds a rare quality to the songs, making them like the most glorious Duolingo app. 'Harakeke' maintaining that laidback groove, a song of dreams and connection, the music acting as a comfort blanket while the lyrics reference "Tō moko kauae" (the tattoo carried by women on their chin) and "Rangatira me te wahine toa" (Chief/Leader and Strong Woman).
'My Witch' marks a change of emphasis with pulsing electronic drums, a rhythm reminiscent of 'Kiss', languid melodies interspersed with guitar squalls while celebrating the desirability of the soul and mind ("Honey it's about the soul / Slay me with your mind / If you wanna make me ohhhhhh! / I couldn't give a damn 'bout size / When your head's between my thighs".)
'Being Human' is one of the album's most powerful songs in its exploration of indigenous sovereignty with Cloher locating themselves on unceded Aboriginal lands and how to live there today in a way that enacts reparations and shows respect to the True Owner ("what they lost / commonwealth came at their cost… genocidal legacy… don't turn away from the shame") accompanied by pounding drums and haka chants from Naarm based Kapa Haka (cultural performance group) Te Hononga o ngā Iwi of "Tino rangatiratanga! (absolute sovereignty!)"
The album's title track switches back to calmer musical waters, a song of legacy, belonging and fears about environmental damage ("on a planet you love but know is dying"), ending with stirring a cappella singing – "E rere kau ana te awa mai i Te Kāhui Maunga ki a Tangaroa, ko au te awa, ko te awa ko au (From the mountains to the sea, I am the river, the river is me)."
'Protest Song' begins with strummed acoustic guitar, telling of a woman bursting backstage traumatised by an experience at the gig and Cloher feeling helpless. Despite the title, the song is far from strident, accepting a lack of answers but suggests acknowledging a problem starts the process ("what use is a protest song if not to feel less alone") while serenading the listener with a luscious horn melody.
'The Wild' is a country-tinged tune with a stirring piano melody and great soulful hollering that celebrates nature but questions our relationship with it ("put your camera down and send your film crew home / if you need to make something… And if you need / To keep naming things / Name how You are part of this precious earth / What you'll do to look after her / And what you're willing to live without"). In contrast, 'Aroha Mai, Aroha Atu' comes closest to conventional rock with its heavy bass and drums. 'He Toka-Tu-Moana', featuring Te Kaahu, has gentle background guitar allowing voices to take centre stage, the title translating as "you are a rock that stands in the ocean/ a strong steadfast person".
'I Am Coming Home' closes the album with Cloher in reflective mood, accepting that "trying to find parts that were missing… What looked like direction was guessing/ what I achieved was all that defined me" but rejoicing that "I come Through a line Of Wāhine Toa (Strong Women) Toitu te whenua (prosperous / sustainable land) Toitu te tangata ((prosperous / sustainable people)".
'I Am The River, The River is Me' may not aspire to being a definite guide to being Māori, LGBTQ or a strong woman but it is a deeply thoughtful and thought-provoking record which, equally significantly, stands on its own musical merits.
Jen Cloher: I Am The River, The River is Me – Out 3rd March 2023 (Milk! Records / Marathon Artists)