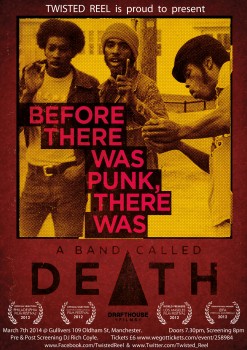 Ahead of its official UK release, Twisted Reel has managed to arrange a special intimate screening of the critically acclaimed documentary 'A Band Called Death' at Gullivers on Friday the 7th of March.
Before Punk … before Bad Brains, the Sex Pistols or even the Ramones, there was a band called Death. Punk before punk existed; three teenage brothers in early '70s Detroit formed a band in their spare bedroom, began playing a few local gigs and even pressed a single in the hopes of getting signed. But this was the era of Motown and emerging disco and so the band were never given a fair shot, disbanding before they even completed one album.
A Band Called Death chronicles the incredible fairy-tale journey of what happened almost three decades later, when a dusty 1974 demo tape made its way out of the attic and found an audience several generations younger. Playing music impossibly ahead of its time, Death is now being credited as the first black punk band, (hell, the first punk band!) and are finally receiving their long overdue recognition as true rock pioneers.
Twisted Reel, is a new music based film night to hit Manchester and will be following their sold out December screening of 1991- The Year Punk Broke at The Castle Hotel with this critically acclaimed music documentary. For the this screening they will be moving across the road the newly refurbished Gullivers.
Before and after the screening local DJ Rich Coyle will be playing a mix of Punk and the music that influenced it, so you can carry on carrying on 'til late.
Doors 7.30pm, Film 8.00pm
Tickets  are priced at just £6 and available from www.wegottickets.com
Twisted Reel Facebook | Twitter | Facebook Event Page