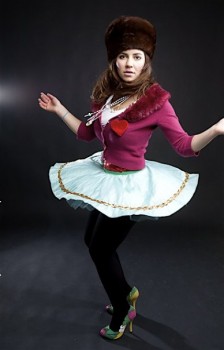 – THE DEAF INSTITUTE, MANCHESTER –
Right from the start, from hearing the opening bars of 'Obsessions', I have been hooked on Marina And The Diamonds. It's always been clear to me that her appeal is multifaceted. Crucially she combines exemplary song writing skills, with the vastly under-appreciated but essential quirk of being an eccentric. She's the latest in a long line of female singer songwriters from Kate Bush to Siouxsie Sioux and Joanna Newsom to be both off her trolley and phenomenally talented – seemingly near insanity always seems to play a large part in their attraction.
However, until tonight it has not been clear that she is also a pop star supremo in waiting. It's not her loose fitting glitter ball dress, or her somewhat ditsy backtalk between the songs that make her so captivating. It's the intensity of her performance which resounds with total confidence both in the quality of her music and in her ability to impress that pushes her into that other world inhabited with true stars. She's heading and looking skywards.
But before she rockets off, she delivers a performance where her songs have never sounded so good. 'I Am Not A Robot' has never sounded so tender, 'Obsessions' so vulnerable or 'Mowgli's Road' so cuckoo, all of which are, of course, delivered with a stoned ska-tinged backbeat.
There's the palpable sense that this is her last gig (which is on the eve of the release of her debut album 'The Family Jewels') in a small venue for at least 15 years. Some musicians look like they'll be big and fall flat (Andrew WK); some are shit and become huge (The Enemy); others are brilliant and fall into obscurity (Neutral Milk Hotel); Marina is brilliant and will be massive. It's amazing to watch such a performer on the verge of something so big.
And all this despite being in the presence of some of the most annoying diehard sing-along fans to soil a concert anywhere ever.