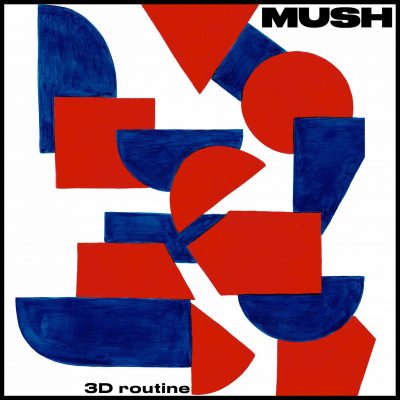 Stirring the spirit of Captain Beefheart into a Gang Of Four and Pavement cocktail, it's the Leeds four piece Mush, pour in a hefty dose of social commentary and you get close to the heart of their debut album '3D Routine'.
Tracks like 'Eat The Etiquette' have guitar lines firing off in all directions threatening to pull each other apart, yet somehow managing to stay held together with enough musical glue for a hefty chorus. There's a dry sense of humour running through many of the lyrics, none more so than on 'Coronation Chicken' with is musings on chlorinated chicken ruining kitchens around the globe (or at least I think that's part of it), and the Tory leadership contest, set against a backdrop of wonderfully abstract guitar lines and a danceable bass groove with lead singer Dan Hyndman claiming "too bad you've ruined my populist hairdo!"
They formed at Leeds Uni over a shared love of Pavement, and their admiration for wonky pop has already earned them a BBC Radio 6 Music session with Marc Riley and a place on the playlist with their single 'Gig Economy'.
They've managed to blend post punk with elements of US 90's college rock and sprinkled it all with a uniquely modern British slant. There's the Sonic Youth-esque squalls of 'Island Mentality' with its driving bassline and guitar riffs and a "Is-land, Is-land, Is-Land" it's catchy without being too obvious, and that's one of their exceptional qualities. Oh, and as the title suggests it's another of Mush's witty social commentaries about the state of the UK today, which along with 'Hey Gammonhead!' is comical as well as poignant.
'3D Routine' is a brilliant slab of spiky guitar melodies riding high with some of the most astutely observational and surreal lyrics you'll hear all year – an exciting and wonderfully bonkers debut.
Mush: 3D Routine – Out Now (Memphis Industries)