Table is not a particularly autoerotic name, but "Songs You Can Sing" is a small little gem of a song – not one turn to turn you on perhaps, but one that will squeeze deep pangs of emotion from the hardest heart.
Hailing from Manchester, the guitarist plays in another very good act named Petty Thief. On this track his musicianship, and everyone else's, is sacrificed for the greater good of the track as a whole. Simplicity reigns supreme.
And the track is supreme. It walks the same path laid down by Bon Iver, it always threatens to break into a calamitous Snow Patrol style epiphany, but thankfully finishes with a delicately sweet piano riff, that achieves far more than the OTT eruption on "Run".
If any of you doubt the vibrancy of Manchester's music scene, Table provides the antidote.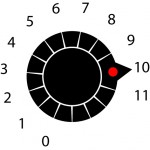 Release Date 22/02/2010