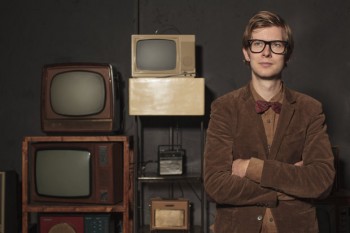 Public Service Broadcasting get back on the road in 2013 with new single 'Signal 30', a cautionary tale of the dangers of disrespecting the rules of the highways and byways, and their hardest-hitting track to date.
The lead single from their imminent debut album 'Inform – Educate – Entertain' (out May 6), the relentless, high-speed track has become a firm favourite in the band's unique live AV show.
'Signal 30' is a notoriously grisly and hard-hitting US road safety film from 1959. Taking their inspiration from the original title, and stopping via numerous other American public information driving films including 'The Bottle and The Throttle' and 'None For The Road', PSB deliver three and a half minutes of pure adrenaline – driving fast so you don't have to.
'Inform – Educate – Entertain' is released on Test Card Recordings on May 6 2013 and features previous singles 'Spitfire', 'ROYGBIV' and 'Everest', three tracks which all won BBC 6Music's Rebel Playlist in 2012 – a breakthrough year for the band which saw the band selling 13k copies of their debut release 'The War Room' EP.
J. Willgoose, Esq. and his drumming companion Wrigglesworth will embark on a mammoth 46 date tour of the UK in late February, March and May in support of the single and album – taking care to drive safely along the way, of course. Confirmed Summer festival slots include Wickerman and Wychwhood & many other large festivals which we aren't allowed to talk about yet!
The track will be available to download free instantly from the band's website (when pre-ordering Inform – Educate – Entertain) and they will be releasing a super limited edition 7" vinyl to tie in with Record Store Day on 20 April and an in-store performance at Rough Trade East.
THE SIGNAL 30 TOUR – FEB & MARCH
21 February – The Railway, Winchester
23 February – The War Room @ Churchill Arms, Alderholt
27 February – Moles, Bath
28 February – The Phoenix, Exeter
1 March – Plough Arts Centre, Falmouth
2 March – Mojo Rising Festival @ The Poly, Falmouth
7 March – The Brewery, Kendal
8 March – The Brickyard, Carlisle
9 March – The Studio, Hartlepool
10 March – The Hop, Wakefield
13 March – The Railway, Bolton
14 March – 53 Degrees, Preston
15 March – The Compass, Chester
16 March – The Bridge, Scunthorpe
17 March – The Leopard, Doncaster
19 March – The Boiler Room, Guildford
20 March – The Junction, Cambridge
21 March – The Musician, Leicester
23 March – Taylor John's House, Coventry
24 March – The Picturedrome, Northampton
THE HIGHLANDS TOUR
30 April – An Tobar, Mull
1 May – Sal Mor Ostaig, Skye
2 May – Ironworks, Inverness
3 May – Woodlands Centre, Stornoway
4 May – The Arch Inn, Ullapool
5 May – Old Bridge Inn, Aviemore
INFORM – EDUCATE – ENTERTAIN ALBUM TOUR – MAY
7 May – The Caves, Edinburgh
8 May – ABC2, Glasgow
9 May – The Lemon Tree, Aberdeen
10 May – The Cluny, Newcastle
11 May – Westgarth Social Club, Middlesbrough
13 May – Brudenell Social Club, Leeds
14 May – Sound Control, Manchester
15 May – The Kazimer, Liverpool
16 May – The Leadmill, Sheffield
17 May – Bodega Social, Nottingham
18 May – HMV Institute Temple, Birmingham
20 May – Roxx, Southampton
21 May – The Haunt, Brighton
22 May – Village Underground, London
23 May – Club Ifor Bach, Cardiff
24 May – The Fleece, Bristol
25 May – OPEN, Norwich
28 May – The Stiff Kitten, Belfast
30 May – Cyprus Avenue, Cork
31 May – The Button Factory, Dublin