As you are all aware, today is the trashy commercial day often called Valentines, so I thought there would be no better time to lose my Soup Kitchen virginity and head to the venue for the first time. Good beer on tap, fun toilets and an eclectic mix of a crowd shows promise that a good time will be had by all at tonight's Cosmo Jarvis show.
Richie Syrett opens the night's proceedings, with the local artist spurning his rootsy Americana tales to a small audience. Backed by a bassist and percussionist, Richie has a country swagger about him and plays a mean harp. 'American Mud' is a highlight as is the doo-wop closer of 'This is Usual'.
Ruby-Ann Patterson bursts onto stage after the break with one of the best voices I have heard in a long time. The Manchester singer songwriter is creating a name for herself having recently been included on the Thirty One charity album (compiled by former Hacienda DJ Dave Haslam) which also features Elbow and Noel Gallagher. Standing on stage with just a keyboard, first song 'Hello' is huge, leaving the audience speechless. Ruby-Ann is a modern diva that has the rare talent of being able to actually sing live, she belongs on the radio. Even after forgetting lyrics in 'Free Me' she wins back the audience with 'Fool Like You', a thumping song, just waiting for someone to remix the shit out of it. She has a great ear for a melody, however I feel she needs a full band to really bring her alive. Definitely one to look out for.
After little to no sound check, Cosmo Jarvis strides on stage with his eager band behind him. I've never seen Cosmo in the flesh before so lets just forget about the music for a second and talk about that neck…I haven't seen anything like that since Henry Rollins, judging by the veins popping out, Cosmo must have a few connections with Aussie sport stars. The London based Jarvis is an extremely busy man, not only does he constantly tour and release music but he has also directed and written a movie 'The Naughty Room' and continues to make epic film clips, I guess with a name like Cosmo, he was born to entertain.
They open proceedings with 'Sure As Hell Not Jesus' followed by 'Love This' off last years Think Bigger. Backed by the traditional line up of guitarist, bassist and drummer, Cosmo leads from the front with his grungy voice and solid ability to play a mean axe. He seems to enjoy the banter coming from the audience and after he drops about five new songs, I start to get the impression that this is a guy who never sleeps, continuing to release new music all the time.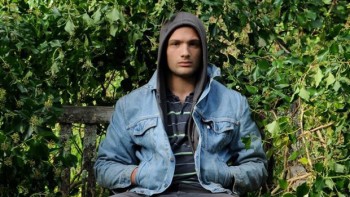 Cosmo and band are built for summer festivals. During my recent trip back to Oz I couldn't help but notice that Cosmo is making waves out there too and it's no wonder why with his reggae, ska and rock tinged music packed full of jam friendly breakdowns. The audience tonight seems a bit tense at the start, however by the end it starts to feel more like a private party with people dancing and joking around with Cosmo and the band.
The set continues with a Grateful Dead cover where Cosmo is genuinely surprised that hardly anyone knows the song. He then proceeds to bring out a mandolin but can't work out how to tune it which would become the running theme of the night. 'Train Downtown' follows which is a set highlight, with brilliant breakdowns and broken drumsticks galore. While on his second attempt at the mandolin he asks if anyone in the audience knows how to tune it. The audience don't seem to mind though. I think we are still amused by the fact that we are witnessing a singer of a rock band playing with hot pink floral guitar.
'Good Citizen' rocks hard, while 'Think Bigger' slows things down. The mandolin returns and surprise surprise, it's finally in tune! This brings a huge roar of approval from the crowd and combined with the catchy 'Betty' everyone is up and dancing. Sensing the good mood, Cosmo finishes the set with his most well known song in 'Gay Pirates', causing a mass sing along.
Soup kitchen is a great venue, the kind of place where the artists are free to walk around and mingle with the audience and it is that kind of atmosphere which makes me feel like I've accidently managed to stumble upon a pretty cool house party, not that I'm complaining. Cosmo rocks pretty hard and seems to enjoy what he does…just don't ask him to tune a mandolin!