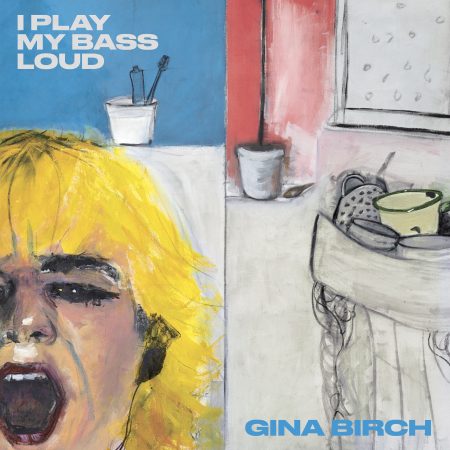 The Raincoats are a band whose influence dwarfed their record sales. Most famously, their late 1970s creative post-punk ethos inspired Kurt Cobain and they originally reformed to open for Nirvana, plans scuppered by his death. However, they have influenced subsequent generations as I witnessed when they shared bills with Bis (during their first wave of success) and Trash Kit (at 2010's All Tomorrow's Parties festival), both acts speaking reverentially of their role as mentors. Most recently, when their set at the 2019 Le Guess Who? Festival clashed with Deerhunter's, I saw Bradford Cox urge his audience to leave to watch The Raincoats.
Gina Birch was a core component of The Raincoats and has now released a debut album comprised of songs she has been working on for the past two decades. It has been worth the wait. 'I Play My Bass Loud' opens with the title track, a statement of intent. An initial blast of feedback precedes a simultaneously dubby and funky bassline. Her defiant approach sees her "Turn up the volume / I raise the window." The song features five female bassists, including the Modettes' Jane Crockford and Emily Elhaj from Angel Olsen's band. It serves as a rebuke to those who typecast and ignore women and the bass guitar, the way the instrument is used especially in reggae and funk illustrating its creative capacity.
The album is co-produced by Youth of Killing Joke who is adept at capturing the tempo changes as demonstrated in the switch from Birch's quietly atmospheric tone poem 'And Then It Happened' which concludes "I used to wish I was you and know you wish you were me", a statement conceived as a joke but containing a kernel of truth, dissolving into 'I Used To Wish I Was You' with Thurston Moore adding a sweeping alt-rock guitar rush.
In another mood shift, 'Big Mouth' is highly danceable, foregrounding a wild rhythm, autotuned vocals outlining the consequences of careless gossip. 'Pussy Riot' is a tribute to the Russian performance art group written at the time of their 2012 arrest ("we're doing our best to be free… we are not afraid"), subsequent events proving their bravery and the brutality of the regime that provoked their protest. A clash of noisy guitars, weaving basslines and dance beats, it is the second great tribute to them after Jeffrey Lewis's supreme 'What Would Pussy Riot Do?'
In its construction with buzzsaw guitars and 1960s girl band drums, 'I Am Rage' recalls The Jesus and Mary Chains' 'Just Like Honey'. Birch urges "don't ask me to be reasonable", a sentiment that is more effective for its slightly hoarse but still controlled delivery.
As an oblique way of tackling the risk of sexual assault, 'I Will Never Wear Stilettos' is excellent ("I'm not saying the city is a warzone… but sometimes you've got to run") as Birch celebrates a variety of alternative footwear choices: brothel creepers, Doc Martens, shiny red lace up shoes. In contrast, 'Feminist Song' states what ought to be obvious to any decent person of any gender ("to hell with powerlessness / to hell with loneliness… when you ask if I'm a feminist / I say why the hell would I not be"). It is a song that acknowledges that there are a few women in positions of power but huge numbers more suffering but it also celebrates kindness, the laughter of a child and "especially when the drugs kick in" as it flits between quietly spoken verses over minimal guitar and big choruses.
Her dub leanings are given fullest reign on 'Digging Down'. Closing track 'Let's Go Crazy' rejoices in enjoying female company, laughing, dancing, pleasing themselves and letting go of fears to further guitar from Moore blending with bass and violin gyration. It is a fine ending to an album that clearly displays why Birch is such an inspiration.
Gina Birch: I Play My Bass Loud – Out 24th February 2023 (Third Man)