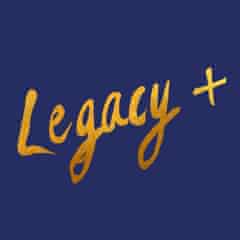 Legacy+ is a double album featuring Stop the Hate, the 11th studio release from Femi Kuti (son of Afrobeat pioneer Fela Kuti) alongside For(e)ward, the debut album of Femi's son Made. Surely no style of music has been so inextricably linked to a single family as Afrobeat is to the Kutis since the Bachs basically completed baroque music. 
Afrobeat hits hard with funky dance tracks but is socially aware in a way Western music rarely has been since the 70's. It'd be nice to hear a major UK musician say, as Femi Kuti does in opening track Pa Pa Pa 'That's why we must face the government; government must not waste our time'… I mean… in circumstances other than "oh shit, the profit margins on my tour just took a hit because of Brexit", that is. The problem is that to pull this off like Femi, you need not only integrity but also credibility, excellent songwriting and a band that could make a dead horse get up and dance. 
It seems the height of presumption and entitlement to hear an album with this much message, get-up and power and just say "it's classic Femi Kuti, maybe a bit more laid back than previous releases but no less powerful" and leave it at that – but I will, because the more extraordinary and challenging music on Legacy+ is on For(e)ward.
For(e)ward lacks the immediacy and dance feel of Stop the Hate; it is more laid back, more melancholic and often brings an evocative b-movie feel. It's closer than Stop the Hate to modern Western music, particularly psychedelia, and more deeply influenced by jazz harmony. Opening track Free Your Mind showcases a relaxed development and more focus on the groove of the music than the lyrical message. The instrumental is like a funk mashup of the Robocop theme with Al Hirt (who played the Green Hornet theme) on trumpet. 
But second track Your Enemy dispels any idea that this music is going to shy away from confronting social issues. Made's smooth, low-register vocals explore the issues of police brutality from an understanding that the police are human too and struggling for their own families: 'When we talk of police brutality, we must know why they are the way they are'. 
Repeating themes of growth and "free your mind" throughout his album, Made's human understanding and philosophical lyric writing seem likely to become one of the defining characteristics of his future music.
Blood introduces an electronic approach to Legacy+ that is quite distinctively Made's, with synths and other electronic instruments and recordings / samples of his father (and/or grandfather)'s oration over a pattern of shifting key changes, it's lacking in the warmth and live feeling we find elsewhere but has its own unique 21st century character.
We Are Strong is frantic with a serious shuffle and an almost dance-hall vibe overlaid with horns, tambourines in a way that all makes me think of a 1950s US Christmas classic. Higher You'll Find ventures into almost comical territory with a crazily ascending section arranged for 8-bit synths and two drummers.
It certainly feels like Made's album was put together with less of a plan, on a much less generous budget and then tagged on to Femi's release for promotion – but that's not to say it's not worthy of being there. I suspect Made will look back on some of this album and recognise it as being part of his development but not part of his path forward – but I am sure a unique artist just made his first big step.
Femi Kuti And Made Kuti – Legacy+: Out Now (Partisan Records)