The NME Awards Tour is one of the most prestigious events in the music calendar. Renowned for launching the careers of some of the most influential bands in the past century; fromFlorence+ The Machine to Coldplay, many highly anticipate what is yet to come from the headliners Django Django and undoubtedly Miles Kane.
Birmingham's quartet (or now trademark 'B-Town') Peace open the evening, the crowd rather humble in size compared to their previous support slots with Manic Street Preachers and The Mystery Jets. Hotly tipped to be the next big shout for this year's summer festivals, ironically Peace are anything but peaceful. Regular set opener and recent single 'Wraith' kicks harder, now that devoted fans in the crowd are present helps make that dreaded crowd warmer slot run much smoother. 'Bblood', lives up to more than expectation, with it being the track that kick-started their popularity frenzy, it rings blatantly out why people first took notice. Expectedly, and in fact thankfully, last year's big breaker 'Delicious' is played almost in its entirety including the romantic infused track 'California Daze', and seemingly many miles apart 'Ocean's Eye' shows the drastic scale of talent Peace have in simply the range that they can cover.
Holding the title of NME's song of 2012, it would be foolish for NME themselves if they didn't give them an opening. Palma Violets are anything but their sweet, innocent name but instead the duo exuberate a Carl Barat and Pete Doherty aura, fuelled with cocky conflict. It only gives us all a slight glimpse of hope in how their relationship could develop, and that someone could master that on stage duelling liaison of the Libertines which may be one of our guiltiest pleasures. Even though they only have a minimal selection of released songs including 'Last of the Summer Wine', and favourite 'Best Friend's both still come with such applause and power that it can only represent how in fact their songs could be not only be sung by hundreds, but thousands in being this years summer festival anthem.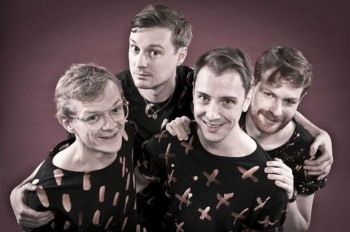 Supporting the headliner, Miles Kane sharp suited, effortlessly greets the crowd who respond with rapturous applause. Arguably Kane is received better, and stands firmly in a more prominent position than headliners Django Django having after all now proven he is seriously fierce competition to what was once band mates of the past. Launching his solo career with 'Colour of the Trap', obvious hits 'Inhaler' and 'Rearrange' are fuelled by the intensity of his electric almost psychedelic guitar riffs. 'Come Closer' leaves the crowd backing Kane, echoing his words. Whereas the likes of 'Counting Down The Days', 'Better Left Invisible' and 'Telepathy' slow things down a little, they showcase Miles' softer, more melodic amorous side, providing a mid-set break to tone things down slightly before they became too out of hand. Kane proves that he is more than just Alex Turner's sidekick.
Headliners Django Django have a tough crowd to please and follow up after Miles Kane's performance. Less prominent in the music business, many questioned their placing in tonight's gig. In clear contrast to Kane, the main duo dress alike, more minimalistic, edgy and naturally arty. The best songs sometimes lie in the simplicity of them, as the repetitive 'Default' doesn't fail in attracting even the most statue like members of the audience into a dance. 'Life's a Beach' and recent single 'Waveforms' both summon the onlookers into an unforgettable jingle, whilst 'Love Dart' is symbolic of the classic Beach Boy's harmonies. Although their tracks may not be drastically different to each other and what we have heard before, they still provide an effortless sense of ecstasy. There's no denying the party band beneath, as the London trio could leave their underground apartments raves behind, but instead Django Django could easily become 2013's next dance floor makers.