Last June, Bipolar Sunshine performed at Soup Kitchen to celebrate the launch of his debut EP Aesthetics. That night, his performance managed to cast an eye-shielding, dazzling light over the somewhat conflicting, dim, grey concrete tiles of the Soup Kitchen basement. Helium balloons soared, and this alluring underbelly of Manchester was infused with a light, I had never seen it showered in before.
That night was anything but a one-off celebration. Since then, the light from Adio's [Bipolar] sunshine has intensified and spread to a wider world far beyond Adio's hometown of Manchester, where he grew up in Chorlton; he has collaborated with Rudimental, supported Bastille, and has since dropped Drowning Butterflies, an EP whose lead single 'Love More Worry Less' was no less than Zane Lowe's 'hottest record in the world'.
Today, when I speak to him, he is in Camden preparing for a support slot with Phoenix, yet immediately it is clear that wherever he is, Manchester still forms a central part of his ever expanding universe;
"It [Manchester] does play a big part, just in myself, I put out both myself and my music.
 I don't really focus on Manchester or its acts, I still know the great ones before, but this is a new way of looking at it."
Although clearly doffing his cap to Manchester's musical heritage, it soon becomes clear that his Jamaican parents gave him a musical upbringing far beyond the confines of this rainy city,
"You know, coming from a Jamaican heritage, a lot of that style of music is constantly played in the house, just great Jamaican music stars like Bob Marley but it was also generally just a mixture of lots of styles of music, my mum listened to The Carpenters."
This worldly aspect is present in everything Adio does, even the name Bipolar Sunshine in its paradoxical nature, gives him a platform which legitimises shifts in the styles and moods of his music;
"I wanted to create a name which I could use with any spectrum or style, I keep the sentiment the same regarding my songs and that's the reason I let my genres go any way.
My style is for people who are romantically curious, some of its relationship, some of its just straight let's have a good time."
Traditionally, musicians who set out with a distinctive sound often struggle to find a happy balance of being able to break from their original sound, yet still keep their fan-base happy. This is something Bipolar Sunshine in the early throws of his solo-career wants to avoid completely, refusing to be classified under any pigeon hole, in fact he argues sentiment is far more important than sound;
"Your sentiment helps you figure out the sort of music 'you' are. A lot of the greats I hold in self-esteem all stand for something but at the same time were still able to deliver the greatest pop songs in the world.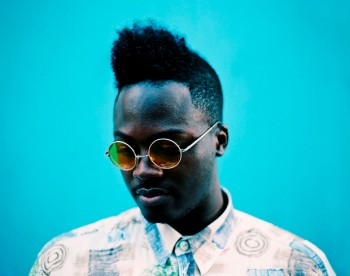 Its understanding the concept behind it, how do you write a song that will keep into that format and still keep being you? I like it when an artist can hold solidly about themselves and value themselves, if there's no value, there's no point of music, there's a lot of music today were there's no value which is throwaway, the sentiment is just not strong enough. You have to look carefully to find an artist you really like, and stick with them."
It is clear that this is much more than any singer-solo project, not only has Adio already launched his own label Aesthetics where he intends to put out music that follows a similar sentiment, he also wants his music to inspire a communal feel, where fans and singer alike are on the same platform,
"We are trying to gather people into a certain ethos, into a certain way of thinking; they're all trying to gather you, into your thoughts into your music. The more people we get on board, the more elation everyone can feel, and when the audience is having a great time, it is priceless."
Harmony it seems then is the only thing you can tie to the mast of Bipolar Sunshine, both in terms of what he wants to inspire among his fan-base and something, which seems to be ever-present in his music, with his songs often having a choral, call-and-response quality. A mere mention of expanding this choral sound beyond his current stock of backing singers from me sees Adio respond with visible excitement;
"You're speaking my language, definitely! The set up I've got now is just for now, I will expand and I will move in a different way to feel that want and that energy, which a choir can inspire is immense! It's something I'm definitely working towards but having a choir with me now is ridiculous [laughs]."
This choral element is prominent in new single 'Where Did The Love Go', whose repeated vocal harmony, which conjures up a beautiful, yet despairing image of a girl's eyes looking like they've had a fight with the rain, forms the basis of the song. It is intimate and personal, and as Adio describes recalls real experience;
"It [Where Did The Love Go] is me looking back and reflecting on a situation I was in, it is being able to see a girl and think you can do better than what she's asking of you at the moment, and that perception is common but sometimes men don't actually see that."
This single is just one of a number of things Adio has in store for us in 2014. Later this month, he is set to tour with Rudimental, with whom he collaborated with in the song 'Distance' last summer; he sees this slot as just another logical step forward in his career and refuses to rule out the possibility of working alongside them again;
"It will be good to play with them in the next few weeks and it's something which I've got to take it step by step.
Hopefully I can work with them again, if it comes about. I'm not going to force it though, if we work together again, we do."
He is also set to embark on his biggest UK headline tour yet throughout March and April, which aptly comes to an end in Manchester, a night which Adio views with particular excitement;
"It builds up to a great finale and in your home town everybody's ready for it and there's no greater feeling than playing in your home town where your family and friends can be around. It's all nice steps and you should have good people around you."
However, a date which must scream out even louder from his calendar is his recently announced slot on the main stage at this summers' Parklife Festival, which he said would be a surreal experience having attended the festival throughout his youth when he announced his performance on Twitter. Yet still his unique drive means he will not get too excited, not yet anyway;
"Excitement is immense to be honest and to be on the same stage as Snoop will be amazing, but when that day comes it will come, I've got other things I'm excited to do before then, I don't want to put too much emphasis on it, until it comes."
From talking to Adio, it is clear he is enjoying the light his recent successes have shone upon him, but most admirable is his vision and although Parklife may truly be his day in the sunshine, you feel it will not be his last.
Bipolar Sunshine Official | Facebook | Twitter | Youtube | Soundcloud