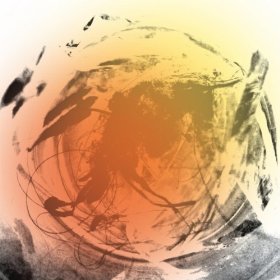 I'm listening to the Megaphonic Thrift's single one last time as I finish off this review and I won't be in any particular hurry to listen to it again – but on the other hand, I will definitely catch them if they play at any of the festivals I'm off to this year.
There are two songs on this six minute single – 'Talks Like a Weed King' and 'Fill Your Cup Tokyo'. I can't really enlighten you as to the deeper meaning of either of them but the lyrics are chock-full of evocative imagery. The Megaphonic Thrift boast two singers – one male, one female. In my experience, this arrangement is far from the easiest to manage, but I like the sound for a few songs because it gives a bit more character to vocals which are pretty lacking melody-wise. The pair use call-and-response and also put together some interesting harmonies, and they have a nice variation in the character of their voices. It's going to be interesting to read the album review to see how they manage to keep it fresh over a full-length record, though.
The music takes after the White Stripes and QotSA, with that grungey 'when it's loud, it's very loud, and when it's quiet, it's really minimal' style. The stripped down drums (which sound like they were nicked off the intro to Blur's 'Song 2′) suit the sound well, with rolling tom-beats, and stuck-closed hi-hat as well as the occasional shift in to crash-led overdrive. Although it's very simple, on-the-whole, there are some very quirky little harmonies in the music too, reminiscent of Oceansize – with parallel fifths, and cutting, clean guitar sound.
The Megaphonic Thrift have piqued my interest now, although I'm left somewhat baffled as to why; there's nothing here that really stands out or demands to be acknowledged, and I'm at sea when it comes to making sense of the lyrics, but it's well-balanced and raw (it sounds like they recorded most of the music in one take, and kept the original recordings to capture the feel). I have to say, I'd prefer something a bit more polished in my old age – but Megaphonic Thrift is what it is – and that's definitely not polished. I think the record probably falls a little short of capturing the real energy of a live show, which is why I really fancy catching them in concert.
Release Date 07/02/2011 (Club AC30)