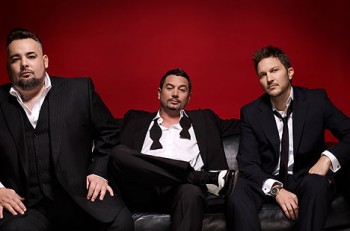 It's only when you hear them again, you realise how much you missed them.
"No-one can really do what the Fun Lovin Criminals do," announces vocalist, lyricist, guitarist and twinkle-eyed wise-guy Huey Morgan. 
"We aren't trying to keep up with the Joneses 'cos there are no Joneses. There's just us, who sound like us. And we're pretty bad-ass."
It's true – FLC are still the world's finest and only purveyors of cinematic hobo hip-hop rock 'n' roll blues-jazz soul-review vibes. 
Like The Killers and Kings of Leon today, the UK loved New York's finest first.
They've been missing for five frustrating years – forced into musical limbo while a court case with an ex-manager was finally resolved, the manager they fired in 2003.
 "The ex-manager tried to take us to the cleaners," adds FLC's founding songwriter Fast (multi-instrumentalist, programmer and world-class trumpet impresario). 
"And it cost us loads; financially, mentally, definitely creatively."
"When I joined the Criminals this lovely ship was sinking," adds drummer, co-songwriter and backing rapper Frank Benbini (aka The Rhythm Man, official member since 2003). 
"And I helped plug it back up. The twin towers had come down; it really affected them as New Yorkers. Then the label, the manager, the court case… It was a killer because people thought we'd broken up. Now, the fun is back."
Formed in New York in 1993 by nightclub-working colleagues Huey and Fast, FLC gate-crashed the euphoric Britpop party in 1996 and brought along some unexpectedly unique swag.
Who can forget the generational classic album 'Come Find Yourself', which gave us the cackling refrain "stick 'em up punk, it's the Fun Lovin Criminal"? The same LP included the Pulp Fiction–sampling 'Scooby Snacks' – a Valium assisted stick-up stunner with the immortal refrain "runnin' around, robbin' banks, all whacked on the Scooby Snacks". 
Huey, at 27, was an ex-con, charismatic New York smooth-talker with Irish/Puerto Rican roots and immaculately tended goatee. Girls, you might say, responded. 
The mid-to late '90s was a twirling martini cocktail of world travel, acclaim and phenomenal album sales. FLC followed up their debut with '100% Colombian' (1999, featuring their Barry White eulogy 'Love Unlimited') and the early 2001 release of third album 'Loco' (its eponymous lead single also featured on a Miller beer commercial).
"1995 to 2000 was living the dream for us," smiles Fast.  "It was just non-stop fun. We were out on tour for five years, we lived it and we don't have any regrets."
During their five-year hiatus, the three brothers Crim found other creative outlets. 
Frank and Fast share a love of Prince, resulting in a collaborative project to re-record 'Purple Rain' as a reggae album (because they are nuts). Fast also DJs while Frank writes kids books and is also working on a musical. 
It's 41 year old Huey, though, who has become a Renaissance Man, a multi gifted (and gab gifted) radio, TV and media personality who had a waxwork in Madame Tussauds. 
He hosts award-winning 'The Huey Show' on BBC6 Radio in London (awarded the Bronze 'Best Music Programme' prize at the Sony Radio Academy Award in 2009) and presents 'Slips' on MTV – a boy-racer series where kids and their customised cars compete for ownership papers like a 21st Century up-date of the car race scene from Grease. 
Huey has also completed his first, as yet unpublished, novel and has also been a wine writer, voice-over artist and cameo-role character actor.
He is also an entrepreneurial property businessman, specialising in bars.
"I do business," he nods. "We've always been pragmatists. When we got our first record deal, we invested in a garbage company, rather than a Rolex. 
"To make music that isn't necessarily flavour of the month and yet not have to compromise, you have to do other things to make sure you'll be OK and your family is OK. It's called being a mensch, which is a Yiddish word for a man who takes care of his family and his friends. In a positive way. Not being a gangster and doing stupid shit (Literal translation: 'a person of integrity and honour'.) 
"I was 27 when we got our record deal, I wasn't a kid, I was a grown man. And I think the fact I got into it when I did means I didn't ever lose my mind."
He'd already been a marine, for a start.
"I'd been a lotta other things too. Heheheh," he added, sheepishly.
But the boys admit that they are still at their happiest when making and performing music.
'Classic Fantastic', FLC's sixth studio album, bursts out of the gloom like a glorious sunrise shooting infinite rays over a range of shadowy mountains, as spectacularly life-affirming as the last five years have been creatively death-defying. It also makes you dance like a whirligig and laugh like a kookaburra perched up a disco gum tree. 
The trio, now all relocated to the UK, have left the cartoon New York netherworld behind for a colossal outdoors party.
'Classic Fantastic' is a self-produced summertime classic, recorded in FLC's London studio and released on their own label, Kilohertz, with independent distribution.
It features life-long "fourth member", the Grammy-award winning hip-hop engineer Tim Latham – of A Tribe Called Quest, De le Soul, KRS-One . . . and Britney Spears fame. 
Over four years of official inactivity, Fast and Frank wrote some fifty tracks, which have been pared down to 13 stunners. These are songs that tell stories, notes Huey, "about the human condition".
From the bonkers psychedelic party-rock of 'Mars' (like OutKast never went away), to the sumptuous, summertime, trumpeting soul of the title track, this is a party album built in a psychological bunker. A phenomenal testament to the power of unbound optimism.
"Well, we're still guys from New York," grins the incorrigible Huey. 
"We keep in the forefront of our minds that any day above ground is a good day. Remember that, don't take the love of your friends and family for granted, and laugh a little every day, and you will be ok.
"No-one's planting a flag here, no-one's curing cancer, but you have a hard week, you get home, whatever your poison is, have a glass of wine, smoke your spliff and go, 'foo, I'm glad that's over' – that's what we're there for. For that exact moment when you can just put aside everyday bullshit. And maybe even laugh."  
Their new music, like their optimism, is impossible to resist.    
"There's this thing called Noetics," announces Huey, the wisest guy in wise-guy rock 'n' roll, now talking about metaphysical psychology. 
"Noetics says if everybody thinks the same good thoughts, good things will happen. Likewise, negative thoughts – it's not rocket science. And we all want the same thing. You have to go through hell to get to heaven and now we're finally out from under a lot of our problems, it's a brand new day. So let's go out and do what we love to do."
Classic Fantastic is out on Monday, March 1.
Catch Fun Lovin Criminals back on tour at Manchester Academy on Saturday, March 6 2010. Tickets are £20