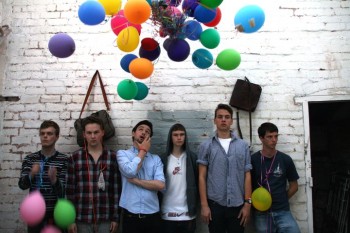 – THE RUBY LOUNGE, MANCHESTER –
There are some venues which can make even the most unknown acts come alive such as Manchester's Academy; there are others which are seeped in so much history that the band are bolstered into putting on a spectacular show even if they are usually mediocre. Venues like Night and Day for example, where either the coffee or the scent of Manchester's "mad for it past" seems to breathe life into the acts. Lastly of all are the venues which look good but can kill an act due to either poor sound or just a poorly thought out layout; Ruby Lounge is one of these venues.
When I heard I would be reviewing Johnny Foreigner from the comfort of Ruby Lounge, I was pretty pleased with myself as the last act I saw here, Edward Sharpe And The Magnetic Zeroes had been a fantastic performance. In spite of it being a Sunday night, Edward and his pixie lady put on such a beautiful show (all lovey dovey and flowery and at but with enough sex to set Kings of Leon alight), had it not been for my companions having to work we were all set to party away the rest the night at their hotel.
Unfortunately as I soon realise if you are viewing an act without the exhausting energy of Edward Sharpe, the band will tend to simmer sadly on stage as the audience slumps back like a dazed drunk separated by a barrier which appears so out of place you wonder if it is part of a prank.
The supporting band Talons are a great little collective who are really producing a sound which is quite different. They have no problem with their instruments and I am not surprised to find out the violinists are classically trained. What Talons lack at the moment, though I am sure it is something they will soon develop, is the ability to perform without getting carried away in their own little guitar show. Much like watching your friends play guitar hero totally entranced by the screen, the lads all seem to be playing alone focused on something the rest of us aren't too sure what. Their lead singer just doesn't seem to have enough pull to grasp the audience and so one's focus is never properly centred upon him, all too often they seem to be happily occupying their own little world. They are however lovely lads and create a wonderful sound which I would compare to the awesome heights of Arcade Fire, once they have sorted out the showmanship.
Johnny Foreigner could not have tried harder to work the crowd during the course of a set which ended too soon. As well as engaging in self mocking banter, lead singer Alexei rocked up and around the stage with no care for his floppy unstyled fringe or the sweat pouring off him into the audience below. He took the mick out of their ability to have been able to fill four rows of the audience (the back was depressingly empty) whilst on tour and joked about how afraid they had been when they first came to Manchester as they thought they would be stabbed or shot. Indeed they do seem a little delicate for our fair city and though not as fairy like as the dear southerners, they are clearly better suited to the warmer climates of their native Birmingham.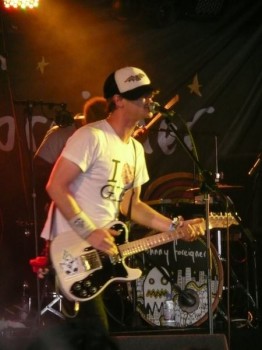 Alexei has a delicate spoken voice and features, though he is accomplished at engaging with the crowd. The connection between him and the female vocalist on stage is lacking the chemistry one wishes to see in a guy and girl pairing. The drummer and Johnny are warm and smiley but the girl, maybe from nerves or even a fight before the band went on stage seems to jar a little with Alexei in-particular.
The difficulty for Johnny Foreigner is the crowd just do not get enough into the music and though there are some people swaying a little and joining in with the clapping, the crowd just seem too placid considering the awesome show they put on. One girl is so subdued I have to brush past her at one point just to make sure she hasn't died and gone into rigor-mortis, she hasn't, she just isn't into varying facial expressions.
What I love about the band's sound is the combination of Alexei and Kelly's vocals. Her voice is stunningly beautiful and I can't help but feel that had she just taken a bit less of a central stage role and let Alexei work his magic, they may have been able to grasp the audience just enough to get them moving to their tunes. Towards the end of the performance they treat us to 'Eyes Wide Terrified' which has truly lovely lyrics, which they released back in 2008. It is a romantic idea and I warm to them all the more with this gesture of love toward their art and a real belief in the music they are making.
The final song is fantastic and they are joined on stage for the ending, (climax just doesn't seem fitting seeing as they never got us going enough) by the violinists from Talons and the end sound is just terrific. Unfortunately it comes to a close quite suddenly and the crowd depart to the bar area with no call for an encore, which is sad because I really want to hear more.
Both acts were highly enjoyable, but the poor set up of Ruby Lounge and in-particuarly the barrier meant the poor acts were having to work far too hard to pull in the audience, who whenever they did not enjoy a song just slinked off to the bar or to have a sit down and a chat. It is a great venue with pleasant staff who put up with me mocking their dreadful drink prices, (£2.90 was the cheapest available so I drank water) but I wonder if perhaps the bar were closed intermittently during acts it would stop the crowd becoming so staggered and sluggish. Even if they just tore down the barrier the acts and audience might be inspired to let loose just a little more, abandon their truly un-ruby like slippers and really feel the magic as they descend the stairs to the wickedly talented treats below.