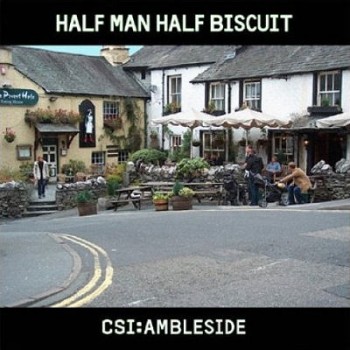 – ACADEMY 1, MANCHESTER –
On arrival at Manchester's Academy 1, it is clear to see that Half Man Half Biscuit are very much a boy's band (not boy band), or maybe I should re-phrase that to a man's band.
Blokes in their late thirties and early forties make up a large percentage of this audience. Some have dragged their girlfriends or wives along with them and some have brought their kids, but the majority are with their mates.
At a little just after 9.30pm the lights dim, smoke fills the stage and from the speakers drones some dark moody music. Anyone who has ever been to one of these gigs before will know, this is, to coin a phrase, "slightly over-egging the pudding", as what is to follow is not to be some over the top breathtaking spectacular showcase.
As the four band members take up their positions, a deep cheer erupts from the crowd. The kind you would hear from any football terrace the length and breadth of the country, as the home team emerge from the tunnel on to the pitch.
Without any messing about, apart from singer Nigel Blackwell seemingly unimpressed with the fact his guitar lead is rather knotted, they acknowledge the fans and get cracking with the job in hand.
The opener for tonight is 'Took Problem Chimp to Ideal Home Show', which is from the 2008 album "CSI: Ambleside". At this point I have to reposition myself several times, as my view is obstructed by the usual annoying people holding their mobile phones aloft, so they can film some unrecognizable distorted clips to upload onto YouTube the very next day.
With not much chat from Blackwell between songs, they then trundle through many more tracks from this album, such as 'Bad Losers on Yahoo Chess', 'Blue Badge Abuser' and the minute long 'Petty Sessions'. Interspersed with these, we are given some treats from their back catalogue.
Favourites like 'Restless Legs', 'Trumpton Riots' and 'Joy Division Oven Gloves' are all sang along with at full volume, by the now ever so slightly inebriated Biscuit faithful. Into the encore for four more and tonight's cover version is a rendition of Manchester's very own Hollies track 'The Air That I Breath'.
This may not seem like a great night out to those unfamiliar with HMHB, but this is what the fans expect, a no frills performance from an almost legendary act.
They show up and get the job done, every time!