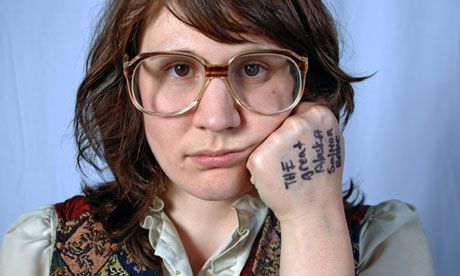 – THE RUBY LOUNGE, MANCHESTER –
Julie Baenziger AKA Sea of Bees has just brought out her album 'Song for Ravens', which has been received rather well. The album is made up of songs crafted with emotional expression, highly beautiful and rather twee. Clad in a knitted jumper with a hair cut that reminds you of the ones your mother gave you as a child, she does not aggressively ask you to give her attention, rather, suggests.
There is a sense that she knows not to give away too much. She doesn't ever strain her vocals but rather opts to take her voice to a minimal and fragment it precisely over the guitars. Her voice sounds alive and exciting. There is a quality that reminds me of Victoria Legrand's voice from Beach House, it has a dense and opaque quality and there seems to be a personality behind it rather than just a single line of vocal melody.
Whilst playing 'Skinnybone' you feel that she applies herself fully, gracefully searing her hazy vocals making the most of her time on stage. You get the feeling that she likes being on stage and I'd say that Sea of Bees should be a busy girl in 2011.
Jessica Davies and Katherine Balmire were choir friends at school when they first started writing together. The closeness and the intimacy between the pair is clearly seen in their songs which are organic and somewhat magical. Their album, 'Through Low Light and Trees', with its enchanting and lustful songs is a classic.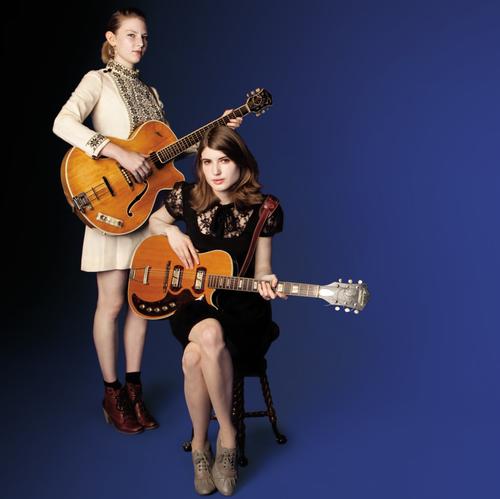 I note that it's an older audience tonight. There doesn't appear to be any 'kids', it seems that modernised and twisted folk still does not appeal to the youth. Never the less it's a full Ruby Lounge.
Davies and Balmire take to the front of the stage joined by a violin and set of drums. They look everything like a folk band; classically pretty with a presence of countryside nostalgia. The set is a mould of melting sounds. Seamless and graceful, their deliverance is effortless. Their voices are warm and honeyed and the harmonies have a hypnotic effect; to get lost in the songs is rather easy. The drums add another level; distinctively they appear to have a separate sound to the rest of the warmth of the voices, guitar and violin, which seeps in with pretty runs, instead the beats run out cold, echoey and loud, it gives the songs a dark edge and a restless energy. All of this leaves you blanketed in a coat of alluring songs right through to the end of the set.