From time to time, one of our contributors will recommend an artist/band they think deserves to be brought to your attention. No record labels, PR companies, bands or band's management will ever have made these recommendations. It is simply one music fan putting their taste on the line in the hope of sharing good music. The questions are intended to give just a basic introduction to possibly your new favourite artist/band.
So without further ado, let's crack on with another introduction, in which Silent Radio's Peter Rea recommends Violet Youth for your audible delectation.
*****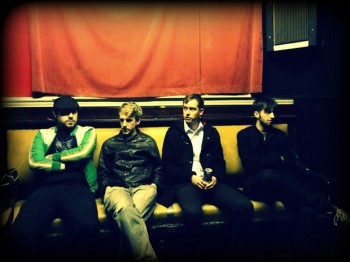 Who are ya?
I'm Andrew Schofield, the least talented and least attractive member of the band Violet Youth
Where are you from?
We're all basically from Stockport, it has a hat museum
How long have you been doing what you're doing now?
We've been playing in bands and what not for a good few years now. It's only since around the summer of 2010 that we found our sound and started taking things more seriously.
Is being a musician your full time job?
No, I work in Admin and the others work in retail in one form or another. Rock and Roll yeah!
How would you explain your sound to someone's 90 year old grandmother?
I wouldn't, I'd sit and listen to her tell me stories about her life around the time of the blitz.
Are there any obvious influences in your music?
I like The Veils a lot so that creeps in here and there, Los Campesinos are also in there a bit, we all listen to differen't music so there's usually quite a range in there.
Are there any not so obvious influences in your music?
Whilst writing our EP I listened to a lot of The Tallest Man on Earth especially 'Sometimes the blues' EP. You can't really tell but it was a massive influence writing wise for me and is very much a stunning record.
Apart from yourself of course, what other band/artist would you recommend our readers check out?
Hot Vestry are quite an exciting band to watch out for, we love Young British Artists and Brown Brogues too.
Best place for people to find out what you are up to?
On Facebook or Twitter (@violetyouth) I'm usually at home though so they can visit whenever really.
Anything to declare?
When I was about 15 I got my nana to sew on an Anarchy badge to my jeans.