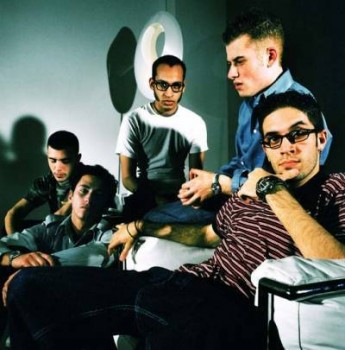 – ACADEMY 1, MANCHESTER –
If there was a world record for squeezing-as-many-discordant-riffs-as-possible-into-a-Mini, the ghost of Norris McWhirter would be straight on the spectral blower to Shapes. Drummer Gavin Filmer has a tough time staying in his seat, such is the voracity with which he sets about destroying each and every corner of his kit, while the spiky Midlands trio's abrupt songs have everything except easily identifiably tunes to latch on to.
Catchiness is never likely to be a problem for Pulled Apart By Horses. Last seen in town opening up for Biffy Clyro, the kinetic Leeds four piece are rarely more than 30 seconds away from an unlikely groove or triumphant hook, all the while retaining an edge reminiscent of Refused at their most snarling.
Guitarist, James Brown, hair like a magpie's nest, clearly feels good as he careens around the stage, Robert Lee on bass has grown immeasurably in confidence this past year, while frontman Tom Hudson's Iron Maiden stance shows off his dayglo orange socks and a decisive, venomous delivery in which not a syllable is wasted.
They're meatier than an abattoir in lambing season, and although their approach is perhaps a little one dimensional, they're clearly onto a winner, and there's no need for 3D glasses.
This is the start of Glassjaw's first full UK headlining tour in aeons, and although it's been the best part of a decade since their last visit to the city – thanks to a pair of cancelled shows – The Academy is far from its heaving best. Still, a predictably rapturous roar greets the slimmed down Long Island quartet as they amble into view, and then….nothing.
They spend a few moments pottering around much to the consternation of the throng, the now-despectacled Daryl Palumbo swaddled in an enormous blue jumper, the cuffs of which entirely cover his hands, making no attempt to communicate with his long suffering faithful. When they do eventually get underway, Justin Beck, guitar held high, flawlessly plays his instrument like a drum kit, so rhythmic is his style, while Palumbo busies himself by caterwauling at a blank space at the back of the stage.
When he does eventually acknowledge there are other people in the room twenty minutes into proceedings, he rambles nonsensically, but by then he's lost the crowd, and what started out as an enthusiastic pit soon winds down to barely a shimmy. Fans they may be, but mugs they're not.
The double whammy of 'Pretty Lush' and a feral rendition of 'Siberian Kiss' at the tail end of the fifteen song set raise spirits somewhat, but Glassjaw's return really wasn't worth the wait.