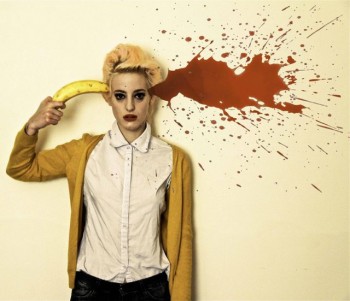 Beth Jeans Houghton & The Hooves of Destiny have unveiled a live session recording of their brand new single 'Sweet Tooth Bird'. Recorded at Lightship95 – a recording studio/boat moored on the Thames – you can now watch a video of the full band session below.
With her dazzling debut album, 'Yours Truly, Cellophane Nose' picking up glowing reviews ahead of its 6 February 2012 release, Beth Jeans Houghton & The Hooves Of Destiny are set to release the giddy (but murderous) 'Sweet Tooth Bird' as a single.
Clocking in at a brisk 2 minutes 14 seconds (including psychedelic breakdown and trumpet fanfares) 'Sweet Tooth Bird' is about sabotaging a relationship that's too good. Or, says Houghton; "Something that is so good it's bad. I think there is this strange feeling of guilt that we all get once we reach a stage of happiness. It is human nature to exist with grief and sadness."
Her debut album 'Yours Truly, Cellophane Nose' was created with producer Ben Hiller (Blur, Elbow, Depeche Mode). It introduces one of the most self-assured new bands of the year, fronted by a pop polymath whose blend of psychedelia, glam rock and chain gang folk is quite unlike anything else you're likely to hear in 2012.
To mark the release of the album, Beth Jeans Houghton will be taking her band, The Hooves Of Destiny, on a canter around the United Kingdom. For anyone picturing a girl and a guitar, think again – this is a full band performance with Beth plus Dav Shiel (drums, vocals samples), Rory Gibson (bass, vocals), Ed Blazey (guitar, trumpet, vocals) and Findlay Macaskill (violin, vocals). Collectively, they're The Hooves Of Destiny – a crack unit recruited from Beth's native North East. If you've never seen Houghton before, expect the unexpected: Houghton's performances are guaranteed to be different, often unpredictable and always entertaining, her between-song chat giving an eye into the slanted world explored further in her inspired lyrics.
Tour Dates:
Tues 24 Jan, BELFAST, BLACK BOX
Thurs 2 Feb, LONDON, HMV Next Big Thing Garage
Fri 17 Feb, GLASGOW, THE CAPTAINS REST
Sat 18 Feb, ST. ANDREWS, ST. ANDREWS UNIVERSITY
Sun 19 Feb, MIDDLESBROUGH, WESTGARTH SC
Tue 21 Feb, LIVERPOOL, ERIC'S
Wed 22 Feb, MANCHESTER, DEAF INSTITUTE
Thu 23 Feb, LEEDS, BRUDENELL
Sat 25 Feb, GATESHEAD, OLD TOWN HALL
Sun 26 Feb, LEICESTER, THE MUSICIAN
Mon 27 Feb, CARDIFF, BUFFALO
Tue 28 Feb, BRISTOL, LOUISIANA
Wed 29 Feb, BIRMINGHAM, HARE & HOUNDS
Thu 01 Mar, LONDON, HOXTON BAR & KITCHEN