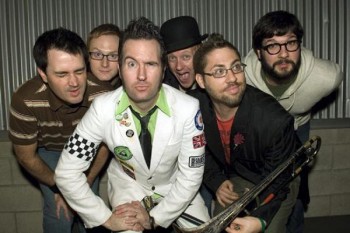 – ACADEMY 1, MANCHESTER –
Despite their name, there are only five people in Sonic Boom Six. The female-fronted Mancunians explode into action, the whole sound penetrating and aggressive like only girls from northern England can be. 'Six' become eight when the brass section from Big D And The Kids' Table join them for a pair of uplifting ska-core numbers.
There's nothing about this set that isn't 'very' something, but it's not what you get from American bands – they don't stick rigidly to one genre, with reggae, hip-hop and metal accentuating the ska and punk in an indefinably 'British' way. Put it like this: if Gwen Stefani were from Old Trafford, it wouldn't be the same, but it'd still work. Although Leila Khan isn't quite at that level physically or vocally, she definitely has a presence and manner which gets everyone involved and bouncing.
Sonic Boom Six treat this gig as if they're headlining and they're probably the most high-energy support act I've seen.
Big D and The Kids' Table follow and teach us two important lessons: "If you can't sing, don't become a lead singer", and "If you need sexy backing singers and saxophone solos to make your show interesting, then you aren't very good".
Finally, we have Reel Big Fish who open with their '97 hit 'Sell Out', and follow up with more familiar material. This is the sort of music hyperactive children should be given on prescription (side effects include excessive pogoing). It's clear as the set develops that they learned a long time ago what they do best, and put all their time and effort into doing it very, very well.
There's little variety in the material, and they don't seem to particularly enjoy the first four or five numbers, but no-one could suggest they aren't giving it 100%.
There's no absence of catchy choruses, great playing and rousing brass; there are even special guests: a semi naked man in leather chaps playing a mean guitar and Leila from Sonic Boom Six impressing once again. The petite, five foot singer earns the gift of a 48FF bra from the headliners with another lively performance.
The high points, however, are covers: Toots & The Maytals 'Monkey Man', 'Brown Eyed Girl' and the finale – their excellent interpretation of 'Take On Me'.