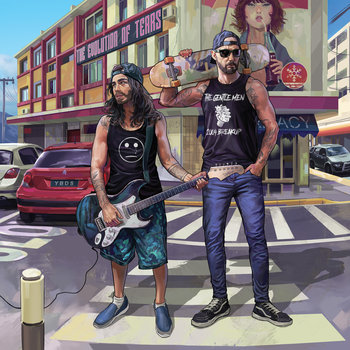 Here is one I missed, and maybe you did too? 
Metal for a long time in my humble opinion has been slept upon for too long. People must have lost their sanity. Mainstream music right now is indie rock or the highway. Politely I'm fed up. Its irritating that there is no escape from this trap the charts present. Ed Sheeran, The 1975 or Taylor Swift. And you must pick one otherwise your deemed uncool. I am sorry but is neither an option? 
I choose modern metal. 
Constantly people fight for their needs. They need tea, biscuits, football, Sundays, and purpose. They need The Gentle Men.
The Gentle Men are a musical collaboration between New Zealand musician Troy McKubre and American YouTuber Charlie "cr1tikal" White. The two have never met in person and write all their music online due to their geographical separation. Also, considering the difficulties of the pandemic in 2020-2021 making music was restricted to these boundaries. 
As a result, I am truly obsessed with what music comes out of the duo. It's comical, it's witty but also full of inventive original humour. 
Recently I have not been able to get their debut album "Evolution of Tears" out of my mind. I feel bonded to it like bread and butter. At first I didn't take the music too seriously, I just considered the kind of goofy content that Charles White posts on YouTube would be a strong theme to make jokey lyrics. In-fact, its quite the opposite. 
"Evolution of Tears" (released 2021) starts with a powerful thunderous shock of guitar. Almost imitating something you would play while ripping something apart. Track one, 'Your Boyfriend Doesn't Scare Me' is a well-done track. I can hear that destructive sound of anarchy that more mainstream metal bands like Slipknot achieve flawlessly.
The song effectively foreshadows a frontal of the goofy humour that I assumed wouldn't work. Fans of Charlie's YouTube career like me love this and you can see where the inspiration comes from. Take track number three 'Skynut' for example, which has techno robot like vocals opening with lyrics describing "monsters that you make from c*m", "testicle gas stations, our only occupation". 
Perhaps this is my immaturity speaking I love this, but as an adult you hear from now, it's this unique twist on the typical metal lyrics describing death repeatedly is what separates this album from pure boredom. As I learn things about music and its construction, I can see a clear line between what musicians do to appeal to subcultures in society for appreciation.
My favourite track on the album must be 'I Am Truth', which maximises loud vocals synergised with the chemistry of Charlie and Troy becoming salt and pepper if you will. The song interchanges between the two of their voices, and the song is played after a strange interlude describing 'the first immortal' perhaps the best interlude in hard rock, setting up 'I Am Truth'. Perfect. Also, 'Here's To Us' as it makes a nice soft ending to the album as listeners like you and I will hear before taking vinyl off the turntable. 
Thank you, Troy, and Charlie, for this masterpiece. It stands out above all.