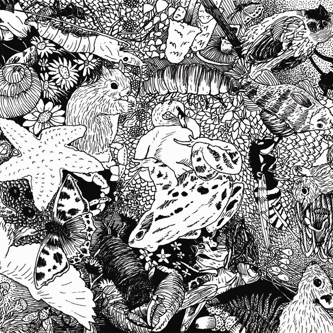 – LIKE NO ENGLISH –
Unusually in these times saturated with the minutiae of celebrity life, there is no superlative press release issued with this EP and little information available on the internet. This paucity of background detail is a predicament faced by those reviewing this EP before me, if the scant online critiques are anything to go by.
However, from what I can glean via a Holmesian trawl through their official website and others, The Dark Sky Singers are a folk collective based in South Shields in North East England.
Perhaps the band all have challenging day jobs and struggle to update their website after a hard day's milling, threshing or weaving, though more likely the intention is to force jaded hacks to focus on the music – this is obviously no bad thing, so I'd probably best make a start.
As an introduction to The Dark Sky Singers, this EP offers an interesting little microcosm, with seven distinct tracks that are over in fifteen minutes. The first of these is Fabel, a short instrumental with crowd background noise mixed louder than the actual instruments themselves.
This is surprisingly effective and could be a recording of the warm, expectant air before an intimate gig, showcasing the gentle hubbub of clatter and chatter as the venue starts to fill. 
With seats taken and flagons of ale in hand, all is set for the EP to begin proper with Stars, a banjo-led ditty with a strong, repetitive lyrical refrain. Atmospheric with gently-strummed acoustic guitar and a horn section, it's a quietly confident slow-burner bolstered by a pattering rhythm that could almost be jigged to.
This song introduces the male lead vocals that feature throughout, though unusually I'm unable to name the protagonist for reasons described above. Suffice to say that they are solid, semi-hushed and suitable, without attempting Joni Mitchell acrobatics. 
In Piano, said singer's vowels hint at the North-East origins of the band, supported by what sound like appropriately-coastal seagull samples. It's pleasant enough and probably the most suitable track for a mass audience, but it's a touch throwaway and there are better songs on the EP.
Indeed, a better song to these ears is One Hundred Years.  Its nylon-strung acoustic guitars are played in a manner that evokes mandolins, which with the plaintive accordion lends a slightly Eastern European feel. There is also a hugely effective female vocal harmonising with the lead – more of this would have been nice, though perhaps it's preferable to use such tactics sparingly.
Influences aren't always immediately apparent, though the instrumentation on Will You Go resembles REM's Find The River, whereas Rocking Chair is piano-led, its majestic opening resembling Simon and Garfunkel's take on Silent Night.
By way of bookending the songs with short instrumentals, the EP closes with The Willows – a rather dark, ambient offering that fuses indistinct textures, the inclusion of which characterises the light and shade offered by the band throughout the EP.
Despite maintaining a limited online presence, it appears that gentle rumblings are afoot – the band have made it onto both Guy Garvey and Gideon Coe's respective BBC playlists in recent months. Who needs a PR machine in hyperdrive? Sometimes good songs and word of mouth really are all you need.
Released 25/10/2010 (Static Caravan Records)