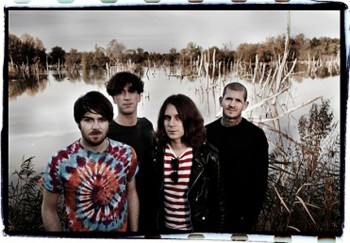 Pulled Apart By Horses release their brand new single, 'V.E.N.O.M' today through Transgressive Records.
This will be the first opportunity to hear the results of the band's work with legendary producer Gill Norton (Pixies, Foo Fighters etc), ahead of the album's release in 2012. The single will be released on digital and 7" formats and will be backed with two exclusive b-sides."V.E.N.O.M. is a raw, breakneck beast that, once written, took on a life of it's own," explains drummer Lee Vincent. "It has all the elements that make our band fun to be in. Fast riffing, huge build ups, trashy lyrics and the all important pay- off."
The band's self-titled 2010 debut was a sonic maelstrom of screamo and hard disco riffage; here was heavy music that you could shake a tail feather to, pop music at its most corrupted. Dance music played by wiry punk weirdo's. Essentially, the band's much-talked about live show captured on plastic, early singles such as 'Back To The Fuck Yeah' and 'High Five, Swan Dive, Nose Dive' somehow ended up being played repeatedly by Radio 1, on whose playlists they gleefully sat like the mad tramp that's gate-crashed the toff's tea party.
But things move fast. Pulled Apart By Horses have already moved way beyond those early days. The Leeds quartet have put meat on the brittle musical bones of their debut. "Our debut was powerful, but it was done in no time at all," says Lee Vincent. "Really it was an attempt to capture the energy and chaos of our live show. The new recordings sound fuller, bigger, more focused, the playing is better, we're moving forward all the time. It's got more balls too. Bigger balls. It's direct and to the point. We've left nothing to chance."
The band's new album 'Tough Love' is released next week and to mark the release day, the band will bring their live show to Rough Trade East for an in-store gig at 7pm on the 23rd January. More details here.
February 2012 live dates:
13th: Glasgow, King Tuts.
14th: Aberdeen, Tunnels.
15th: Newcastle, Digital Other Rooms.
16th: Sheffield, Leadmill.
17th: Manchester, Club Academy.
18th: Bristol, Fleece.
20th: Birmingham, Library.
21st: Norwich, Waterfront.
22nd: Southampton, Talking Heads.
23rd: London, Electric Ballroom.