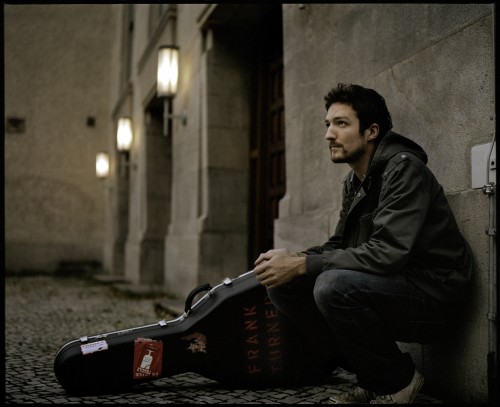 – THE APOLLO, MANCHESTER –
It's a windy, drizzly and cold November night, and quite frankly, the prospect of a going to a gig over a hot drink and bed seems unthinkable. But tonight I've been persuaded. It's the turn of Frank Turner to grace the Apollo in Manchester, and after a long period of avoidance, I think it's time that I give him a listen.
You see, I did see Frank Turner a few years ago, as a slightly scruffy, political songwriter opening for the Levellers at Leeds 02 Academy, and was completely blown away. However, once he found huge appreciation from the Mumford and Sons clan, I decided, probably unfairly, to tune out. 
This time I'm at the Apollo, and the audience is mixed, unexpected. There's a definite buzz about the place. Unfortunately I arrive late, and miss the opening act, Emily Barker and the Red Clay Halo, which is a crime indeed. I saw them a few years ago at the Band Room in Farndale, and their music is simply stunning. They are followed by pop-punk band Against Me!, who are given a warm welcome from the crowd and put on a great supporting show.
It is now time for the headlining act, and Frank Turner enters the stage to riotous applause. He opens with 'Eulogy', a track from the new album, 'England Keep My Bones'. Tonight he plays with a full band, which I feel packs more of a punch than simple acoustics but sometimes masks Turner's lyrics. The crowd do not seem bothered by this however, as they bellow out every word of every song regardless. This time they shout along to similarly short fare, 'Try this at Home', a punk-rock anthem that gets the hardcore fans jostling at the front. A man behind me yells, "Frank Turner, I want your babies!"
For me though, it's not until 'I Am Disappeared' that the hairs on my neck officially stand up, and the music grips me. The softness of the piano tinged first chorus juxtaposed against the heavy guitars works like a dream and hits hard.
Even without the backing band though, Frank definitely proves that acoustic guitars can be rock and roll. The singalong 'Love, Ire & Song' gets the crowd swaying and chanting along. I finally feel like I am entering real Turner territory, with the politics and protest emerging from his lyrics, and it goes down a storm. Emily Barker and the Red Clay Halo rejoin him on stage, and the resulting sound is one of both beauty and bitterness, a killer combination.  
Turner then plays 'I Knew Prufrock Before He Got Famous', and upon the word "stars" a burst of twinkles spread out across the Apollo roof, to a chorus of "Oohs" and "Aahs." Coupled with his lyrics of romantic poets, it is certainly a moving spectacle.
As a hardened folkie, my personal highlights of the night are 'Wessex Boy' and the open tuned, rootsy 'Rivers', both with some cracking mandolin/guitar/accordion arrangements. 'Rivers' echoes Levellers' 'The Boatman', and its homage to roving the British Isles and Ireland undoubtedly stirs something in my chest.
A fun cover of 'Somebody to Love' ends the first part of the show, which has all the plus-ones singing along too. He leaves the stage and returns for the encore, with a new song and old favourite 'The Ballad of Me and My Friends' which is understandably well received. Turner then attempts to unite the house singing, enlisting audience participation in the chorus of 'Photosynthesis', a mischievous, youthful anthem that encourages a breakout of wild dancing in the back. The chanting of "Most of all, I won't grow up!" is a fitting end to the show, and I leave, as many others do, with a cheeky smile on my face. The sound of Frank Turner's guitar may not be changing the world just yet, but it has certainly changed my mind. Folk punk is definitely not dead.