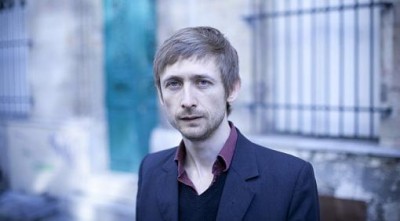 – ACADEMY 2, MANCHESTER –
Divine Comedy is Neil Hannon is Divine Comedy. It's a Badly Drawn Boy /Damon Gough dynamic which means there will never be different line-ups… unless Neil plans on major schizophrenic schisms. Hannon does sometimes play with a band but tonight it's only Neil, armed only with a grand piano, acoustic guitar, pipe and tweed hat.
And you don't want, nor need, for anything else. Neil Hannon is one of the finest craftsmen of the quintessentially perfect pop song that these isles have produced in many years (he's originally from Northern Ireland). Not only does the music have a kind of music hall, show tune sensibility but the lyrical content is pure poetry. He's a kook, no doubt about it, who looks like he's just stumbled out of some dusty Oxford boozer. Who else would write a concept album about cricket (2009's "The Duckworth Lewis Method"), pen the theme tune to Father Ted or write songs about such mundane British things as National Express coaches, indie discos and Alfie?
Tonight he steps onto the stage in hat and pipe, the uniform adopted for latest long player "Bang Goes The Knighthood" (he's a kind of Bowie-esque chameleon, only less alien transsexual… more village pub dandy). Kicking off with a track from "The Duckworth Lewis Method", he plays through a perfectly formed set of older tunes and newer ones from the Knighthood album. Accompanying himself either at the piano or on guitar, highlights include "Frog Princess", "Songs of Love" and, from the more recent material, "The Complete Banker", "Assume The Perpendicular" and my personal favourite "I Like". Yes, I do indeed, Neil. Another fab moment is "The Lost Art Of Conversation", a song ambitious enough to take as its theme the need to converse more, even offering suggested head starts within the lyrics: "let'sstart by talking tactics / With pepper-pots and matchsticks / Here's how we practice the lost art of conversation… / David Jason / Francis Bacon / Frank Lampard". What I would pay to have an elastic afternoon in the pub with Neil Hannon and the chance, over one or two or three too many pints of Guinness, to practice.
It's parlour pop, pop with A' levels, grown up pop songs interspersed with hilariously comic moments from Hannon. So….the perfect gig, right? Wrong. It's in completely the wrong room. Thankfully, Hannon seems to be able to pull decent crowds these days; however the flipside of that is a sold-out and over-subscribed crowd jostling for position in the sweaty shoebox that is Academy 2. As Hannon is often sat at the piano it's hard to see anything from where we we're stood – how much better it would be to have had the gig somewhere like the Royal Northern College of Music, where I recently reviewed Badly Drawn Boy. Let's face it – this is not crowd-surfacing-mosh-pit grunge – it has more in common with Oscar Wilde than Metallica. And as myself and my missus are not exactly blessed on the vertical axis, it's hard to get a butcher's at what's going on.
If, however, you would like a review of the back of the tall chap stood in front of me for most of the gig, I can provide a most detailed account….