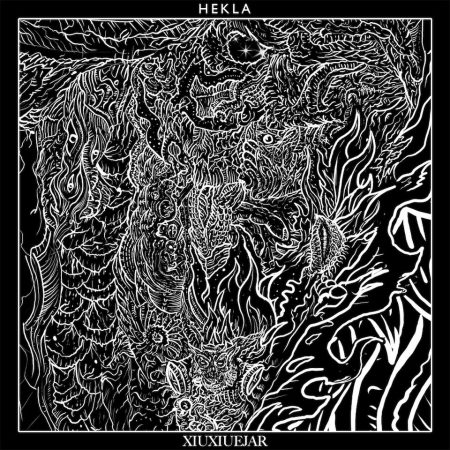 Iceland has produced many musicians that have proudly pushed the boundaries of contemporary music, and now Hekla has claimed her place at the table. When Leon Theremin invented the theremin almost 100 years ago, few could have imagined that it would ever lead to this. Hekla is a rare virtuosic player of the theremin, a notoriously difficult electronic instrument, joining a minuscule group of musicians in the mastery of its esoteric, light-controlled frequencies. Classically informed, her playing covers an enormous range, from skittering birdsong of chirrups and chirps to tectonic sub-bass. Her style can only be likened to names such as Julia Holter or the late but great Jóhann Jóhannsson. 
 Album opener "The Whole" begins with entrancing and overlapping theremin melodies akin to a conversation between haunted voices. The track conjures up an image of a peaceful place turning into a hellish personal prison, thus opening the door for the rest of the album. Here, we are treated to Hekla's spectral vocals which are surprisingly in English. The vocals are layered with deep echoes that are almost aching to escape the entrapment. The start of a nightmare or the start of a new reality, openings rarely come as strong. As the album progresses we are entirely at the mercy of Hekla. Shape-shifting sonic elements fill every gap and crevice leaving the listener submerged and helpless. "Ris og Rof", which translates to rise and rupture, is a claustrophobic tour de force, blessing the album with its dramatic and fluidic form. Another essential track is "Í Kyrrð". Translated to 'in silence', this song explores insomnia and as Hekla states "finding a place where you are in this weird mental state of not being able to sleep and that makes you feel kind of like you are drunk, and you can't even form a sentence." Í Kyrrð is a lonely track that makes the listener feel inert and cemented. 

All of the 10 songs on the album boldly explore a territory that is unknown and untouched. Interestingly, Hekla shares her name with an important piece of geography. If you travel to the south of Iceland, in your eye line you will probably be able to see a stratovolcano called Hekla. This goliath holds the title of Iceland's most active volcano with over 20 eruptions occurring since 874. This is why it has merited the nickname the "gateway to hell". When listening to Xiuxiuejar I couldn't help but think of the volcano and its secrets. It's more powerful than we'll ever be and contains things we'll never see. From ice-cold moments of dread to blistering explosions of sound, Xiuxiuejar sonically explores the deep innards of a volcano. In the album, small individual artefacts of sound are delicately spread across a desolate negative space, creating a textural structure built on and around silence. These fragments exist in their hundreds, but each serves a purpose, just like pieces to a jigsaw puzzle. The dense and unforgiving gravity of Hekla's sonics aligns Xiuxiuejar with freeform avant-garde and sound art, yielding an album to mimic Iceland's barren rocky landscapes and folkloric magic. We have been haunted by the spirits of Hekla's theremin yet again. Xiuxiuejar is a sonic black hole of corrosive beauty and mesmerising darkness.
 Hekla: Xiuxiuejar – Out Now (Phantom Limb)