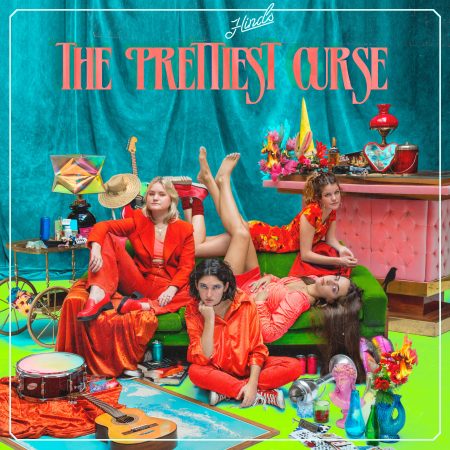 Two words spring to mind when I think of the Spanish quartet Hinds, and that's colourfully consistent. Whether it be live or recorded, they never seem to dissatisfy. The band have just dropped their third album 'The Prettiest Curse' and you'd be a fool not to put it on to your summer playlist.
Hinds have been cutting the mustard since their formation in 2011. Their evolution has been nothing short of an inspiring ascension that's made them the unsung heroes of the indie cosmos. Notorious in some circles for their lo-fi garage rock sound, the band have striven away from this by delivering a short but sweet love letter to the past.
The Prettiest Curse captures a whole summers day in a mere thirty-two minutes. The album's energetic commencement came as a surprisingly positive shock. 'Good Bad Times' isn't your conventional Hinds song. It's a synthy bi-lingual hit that proves the band are more than just a one-trick pony. It's an emphatically faultless start, three singles to kick off the multicoloured fiesta. The songs come polished and pre-made for arena tours. A strong demonstration of Hinds maturing in the right direction.
'Riding Solo' and 'Boy' are also noteworthy mentions. Boy' is perhaps the finest example of how Hinds have nailed the stadium anthem aura. The sound is cavernous and rowdy, the chorus is an instant earworm. Under the guidance of Grammy-nominated producer Jennifer Decilveo, a new production style for the band has revealed itself. Without deserting their infamous DIY sound, we're welcomed to a more clean and corporate-friendly sound that harbours a hint of the old days.
In the mid-section, Hinds strike rock 'n' roll gold and a special acknowledgement must be given to 'Take Me Back'. This song will undoubtedly be overlooked by most critics and listeners, nonetheless, it's a hidden treasure that seizes the true Hinds spirit. It has everything the fans are asking for; a catchy chorus, unrestrained rambunctious guitar riffs, and most importantly, sentimentality. 'Take Me Back' is destined to be a spine-tingling encore.
The band is fronted by Madrid-based Carlotta Cosials and Ana García Perotte. Not quite as destructive as Pete Doherty and Carl Barât but far more euphonious than Tom DeLonge and Mark Hoppus, the pair are a dynamic and diligent duo working together like a knife and fork. Hinds wouldn't be Hinds without their convincing duets.
'This Moment Forever' is the dreamy closing piece the album needed. A tender and sleepy adiós to the listener. Hinds are giving the audience a warm audio-induced hug that's been delivered straight from their swaying dulcet tones. A soothing track for nostalgic reverie.
The quality of this album was never in doubt, Hinds always deliver the goods. Be that as it may, one must challenge the length. Ten tracks totalling thirty-two minutes is a lot shorter than it is sweet. The record stops and I'm still left hungry, albeit truly contented. A band as fruitful as Hinds surely had a few more songs up their artistic sleeves.
In any case the album goes undeterred by its inconsequential emaciation. The Prettiest Curse is dressed head to toe with confidence. This album is for the optimistic daydreamers trying to salvage whatever summer they can.
Hinds: The Prettiest Curse – Out Now (Lucky Number Records)