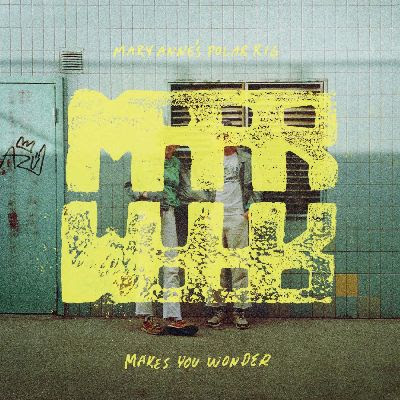 I'm vacuously staring into an empty glass, swirling the last remaining trickles of liquid, waiting for a long overdue refill. I'm drunk, depleted, and displeased. The bar is concerningly empty for a Friday night and just like the waitress, it's dim and cold. The couple behind me are unapologetically American. I'm at the end of my tether, it's time to filter them out with something louder – not an easy task when you're in the company of Americans. Amongst my ever-expanding to-do list was to review the new Mary Anne's Polar Rig album. I've never heard of them, so I guess I've been (wrongly) putting it off, but the brief outlined them as 'irresponsible' and 'brooding' – rather fitting for my current state. I put my earphones in as another whiskey chaser was sternly put in front of me and onto my warpath. 
Mary Anne's Polar Rig are named after a mining station on the Arctic island of Svalbard, an identification that implies a little bit of toughness, an ability to take a few knocks and keep on punching. You can hear that in their sound – the Malmö duo, Malin Hofvander and Harald Ingvarsson, serve up rough-and-tumble rock and roll that can handle anything the world has to throw at it. This album is complex, mature, and heavy. The band's melodies and sharp refrains strike like lightning bolts – some songs skid and roll chaotically, and others are carefully nursed and layered into something crashing and grand, like towering prog pyramids. Needle sharp guitars complement Hofvander's snarling vocals which vastly expands the scope of their sound. 'Dopamine Detox' and 'Summer Girl' serve as classic singles filled with clattering bursts of energy. Then there are softer moments – like the bruised waltz 'Wait' – but the album's tour de force is its sprawling, grand epics. Take 'Instead Of This' for example – the band take what starts out as a relatively conventional song and pulls it into another dimension, where everything starts to warp and blur, and the song mutates, inhales and exhales into a different beast. 'Life In The City' is initially spectral and haunting but eventually blooms, through shivers of piano, into something beautiful. Som en Dröm is five and a bit minutes of nerve-jangling restlessness. It may be regarded as the unsung hero of the album, but it'll take time to grow on you. 
What I discovered in the bar that night was something akin to the alcohol I was abusing – destructive and strong with all the right flavours for a good time. 'Makes You Wonder' was all I needed to drink that night. I listened to the album back-to-back in the bar and when I got home I went straight to work and began shaping what you're reading right now. Albeit edited and refined in a more sober state of mind, I wanted this review to keep the spirit of the band. Rough and flawed yet self-aware – a product that is more realistic than it is polished. Which is one of the many allures to the music of Mary Anne's Polar Rig. This sentiment is truly amplified with the track 'Beautiful Mess'. It's the album's climax and rightly so. We're living in a beautiful mess, and I'd be the first to volunteer to attribute that label to my own life, perhaps why that song had such an impact on me. This album has many twists and turns, and you'll likely find yourself in a knot by the end.
Mary Anne's Polar Rig: Makes You Wonder – Out 24th March 2023 (Rama Lama Records)