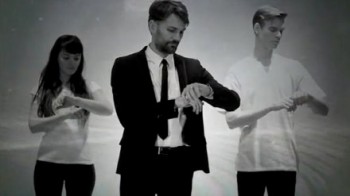 Porcelain Raft has released a new video for next single 'Unless You Speak From Your Heart', which is to be released  on the 20th February in the UK through Secretly Canadian.
The video was filmed in New York and directed by Porcelain Raft aka Mauro Remiddi himself. He says of video "Once I went to see an exhibition where inside a white room there were two speakers with loud techno music. To see these two big speakers in a very bright white room made me think how an object so common suddenly can have another meaning. The techno music as well had completely another appeal because it was played in such environment. With that in mind I put myself, a mic stand and two alter egos in a white room. Just to see what would have happened. Michael, the guy behind me in the video, is my new drummer."
The single will be released as a 7" and mp3 backed by b-side 'Something In Between'
Following on from last week's shows supporting M83, Porcelain Raft will support Smith Westernsand play with Youth Lagoon in the States before returning to the UK and Europe on these dates.
PORCELAIN RAFT TOUR DATES SUPPORTING M83
Feb 12 – HMV Next Big Thing @ The Garage, London UK SOLO SHOW
Feb 16 – Shepherds Bush Empire, London UK
Feb 22 – U&G. Hamburg DE
Feb 23 – Vega, Copenhagen DK
Feb 24 – Rockefeller, Oslo NO
Feb 25 – Berns, Stockholm SE
Feb 27 – Tavastia, Helsinki FI
Feb 29 – KB, Malmo SE
Mar 02 – Introducing Festival, Berlin DE
Mar 03 – Introducing Festival, Cologne DE
Mar 04 – Lucerna, Prague CZ
Mar 05 – Hansa 39, Munich DE
Mar 06 – Magazini Generali, Milan IT
Mar 08 – Rockstore, Montpelier FR
Mar 09 – Bikini, Barcelona ES
Mar 10 – Shoko, Madrid ES
Mar 11 – Hard Club, Porto PT
Mar 12 – Lux, Lisbon PT
Mar 14 – I.Boat, Bordeaux FR
Mar 15 – La Cigale, Paris FR
Mar 16 – Le Grand Mix, Tourcoing FR
Mar 17 – La Laiterie, Strasbourg FR
Mar 18 – Les Docks, Lausanne CH