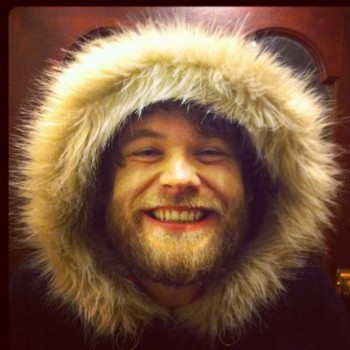 – THE CASTLE HOTEL, MANCHESTER –
The Weekend is here at last (who actually does any work on a Friday anyway?) and local promotion company Hey! Manchester has agreed to help kick start my festivities by putting on a stellar night of music at the Castle Hotel.
First up on stage is John Ainsworth, a young local lad who kicks things off by pounding down on his 12-string guitar. 2nd song 'Easy Prey' is a real showstopper, lead by a fantastic vocal melody and matched by his frantic guitar playing. As he continues into 'Turning To The Dark' you cant help but wonder that this kid must have had a serious upbringing of good ol' fashioned rock n roll. Shy and quiet on stage, he lets his music do the talking finishing with another highlight in 'Running from the devil'. John looks like your stereotypical rocker with his hair drawn down over his eyes, skinny black jeans and worn out chucks, however his voice is hugely unexpected. Almost like a young Jeff Buckley, he deserves to play to a larger crowd as the room is half empty throughout his set.
Next up is Manchester's Walk, who glide on stage to a pretty decent reception. Lead Singer/Guitarist Rik Warren and drummer David Schlechtriemen (from The Pickpocket Network, Driver Drive Faster and Honeyfeet) swamp straight into a bluesy instrumental opener. The tunes are rollicking; minimalistic blues songs jam-packed with infectious grooves, which instantly get the feet tapping and that booty wobbling. It reminds me a bit of being in the deep south of America, with a jar full of moonshine the only thing missing. The crowd is enthralled and instantly fill that 'gap' at the front of the stage you so often see at gigs, hell, they weren't even prompted like usual! After dropping a couple of slower numbers, they pick up the pace again with the self-titled current single 'Walk'. Please do yourself a favour and download it from the band's BandCamp page before their album is out in March.
Headliner Matthew Whitaker , the former lead singer of self proclaimed 'party band' Whiskycats, gently takes to the stage flanked by his band mates and edges into a Tarantino like riff to open the set. After his much-hyped solo EP in 2010, 'The Man with the Anvil Hat', Matt, drummer Sam Draper, double bassist Grant Russell and guitarist Jim Wallace, are currently working with renowned producer Jim Spencer (New Order, Charlatans) on their first full-length album, which should be released later this year.
Sat down on a chair whilst straddling an acoustic guitar, Matt seems at home discussing his lyrics and life in general with the audience.  'Feud' recalls some of Nick Cave's best murder ballads and a song about politicians in 'You Can Only Let Us Down' quickly follows. Whitaker has a real charisma about him and shares a great rapport with the audience, constantly talking and keeping us entertained. He even manages to keep his cool after discovering Grant has necked most of the singers beer. The only down point is the constant chatting from people at the back of the room, which lead to a few members of the audience giving them the shhhh treatment.
A thumping bass line brings in 'Brave new World', which tells a tale of having nightmares about the future. The songs are quite dark and full of despair, however the band is tight and accomplished at their individual instruments.
The tone of the set changes half way through when things get a whole lot jazzier. The soft, Parisian café like tunes suit Matt's voice and allow Grant to take command with his swooning double bass.  'Team Games' is followed by a song about road safety which features some brilliant guitar interludes from Jim Wallace. Personal favourite 'Settle Down Blues' comes next and finds the crowd closing their eyes and nodding along to the breezy tune.
Before disappointing the audience by saying it would be their last song, Matt goes on to say he has a present for us for being such a good crowd, proceeding to whip out a bag of Rainbow Drops to be dispersed amongst us. Matt Whitaker and his band seem really chuffed to be here, and as I look around the room full of satisfied faces chewing away on their sweets, it seems that the feeling is mutual.