NEWS: THE MYNABIRDS – WATCH THE VIDEO FOR NEW TRACK 'GENERALS'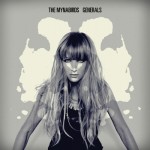 It's time to get your black boots on and your marching drum ready because The Mynabirds released their second album, 'Generals', on June 4th. To celebrate the release of their album, The Mynabirds have shared the video for the title track. Directed by Tessa Wedberg and Jonathan Tvrdik, the video shows an underground network of ladies (and gents!) banding together to take back the power from the powers that be. It's one part Godard's "Band of Outsiders" and one part Janet Jackson's "Rhythm Nation." You'd better believe there's a choreographed group dance number!
'Generals' draws from over a decade of political frustration, with some of the tracks off the album dating back to 9/11, channeling built up anger and transforming it into positive energy. Contrasting the critically acclaimed 2010 debut album 'What We Lose in the Fire We Gain in the Flood's' zen inspired album, 'Generals' is both a protest record and concept album. The album contains armies of stomps and claps, sweeping full spectrum orchestrations, and moments that range from intensely personal pleas to shout-out-loud protests with teeth.