LIVE: FIELD MUSIC / STEALING SHEEP – 19/02/2012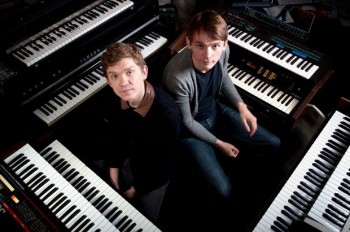 – THE DEAF INSTITUTE, MANCHESTER –
Sunday has a magical quality. A dignified presence, the end of the week, and a time to reflect and contemplate the mysteries of life.  What better environment to do all this, than The Deaf Institute? You can usually find me on the dance-floor, twirling underneath the sparkling mirrorball… But tonight is Sunday, and so I am on the balcony, overlooking the stage as a buzzing audience proliferates. The majority of this demographic is mainly male, and over the age of 30. Perhaps this is expected at a Field Music concert; the Brewis brothers are of similar age, and the image they embody is understated and introspective.
So as three beautiful women stride onto the stage, Stealing Sheep snatch my pleasantly stunned attention. The band is composed of Becky, Emily and Lucy, and they sing in enchanting three-part harmonies. Their sound has been described by many as modern psychedelic folk, and as the reverberating guitars blend with the echoes of the drums, I find myself in this spell-binding atmosphere. I look over to see the reaction from the audience, and I can see the aloof faces crumble into appreciation, as the haunting lyrics and enigmatic charisma of Stealing Sheep are too mesmerizing to dismiss.
I applaud wildly as Stealing Sheep receive a warm response, and the anticipation for Sunderland's own Field Music is palpable. The Field Music brothers are known for their humble personalities, in a recent interview, David Brewis has said that, "I'd hate to think we weren't working as hard as people who have real jobs," and often the brothers feel guilty for choosing to make intricately-crafted records instead of having a 'real job.' They needn't worry today though; Sunday is a day of rest. Their grounded and unpretentious mentality is supported as they set-up their own equipment, unique to Field Music. This is because Peter and David Brewis constantly interchange between piano, guitar and drums. They are accomplished song-writers, and both have had solo projects. Nonetheless, between them they have established a sound of melodious but edgy alternative rock that bubbles under the hype of other rock acts.
They open with the first track from the most recent album 'Plumb' 'Start the day right', which typically starts with a delicate string and vocal entry, and bursts into a powerful rhythmic swagger. Field Music are story-tellers and each song emotes a different feeling or thought, bristling with catchy and funky hooks. They play a few recent tracks, but also tickle the crowd with a few of their best loved songs. My highlight is 'Lets Write a Book' with the bass heavy track, nodding the heads of all spectators. Nevertheless, new tracks such as, 'A New Town' and '(I Keep Thinking About) a New Thing' also have the same punchy riffs and driving drum beat, so synonymous with their majestic sound. But it is the quieter moments of the night, such as the charmingly honest, 'Sorry Again, Mate', when it is only Peter Brewis playing the piano and singing the lyrics, "trying to beat the traffic, meet the train, only guessing the time I arrive", that they elevate the aspects in everyone's working lives and make moments- such as waking up on a Monday morning- appear beguiling.